DQN @ AUTOTECHNICA

A trade show is the opportunity to discover our new products and see our tyre machines running. It's also a chance to try them yourself.
But first of all it's an opportunity to meet us, to share your projects and your experience so that we can best meet your needs. This dialogue between the end-user and the manufacturer often begins at an exhibition.
Don't miss the date and visit us at Auto Technica!
News
A new location, a new product range
After 90 years, du Quesne, the Belgian manufacturer of tyre equipment, has left its historic building in the heart of Antwerp in exchange for a new spacious location in Kontich. DQN is launching the Ergo-line, an ergonomic assembly line for wheels and tyres.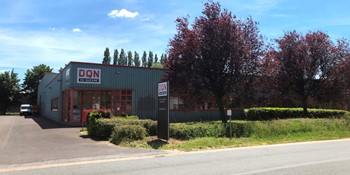 Show
DQN – DU QUESNE on TV.
TV channel Kanaal Z visiting our new premises in Kontich. DQN – DU QUESNE Belgian manufacturer of tyre changers and assembly lines "low tech, high performance".
Find out how we currently operate.
Show
To minimise the ecological footprint we're adding a card with QR code to our machines. This replaces the printed version of the documentation (user manual, CE document, exploded view, service and adjustments). If you scan this QR code, you can easily find all documents online after entering the serial number of your machine. On request, we can supply the printed manual.
Show